Patient Engagement Platform
Seamlessly engage and retain patients, then convert them for life!
Our smart integrated Patient Engagement Platform empowers providers to deliver bi-directional conversational messaging at every digital touchpoint of the patient journey.
Schedule A Demo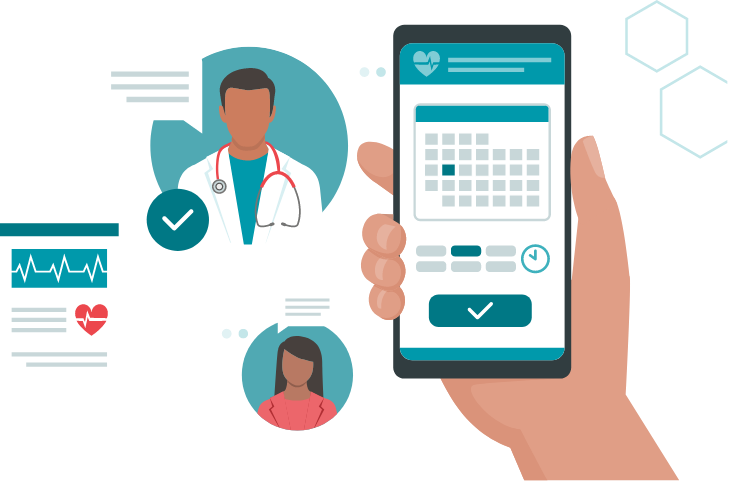 According to the Accenture 2020 US Digital Health Consumer survey,
68%

say they are more likely to choose medical providers that offer the ability to book, change, or cancel appointments online

70%

say they will choose medical providers who send emails or text messages when it's time for preventive or follow-up care

55%

say "trusted healthcare professionals" would motivate them to take a more active role in managing their health
"According to the Harvard Business Review, a 5% increase in the Patient Retention Rate can increase your Profits from 25% to 95%."
Challenges in the Traditional Way of Patient Engagement
No-shows and late cancellations are costly for providers both time and money-wise

Lack of robust mechanisms to relieve front desk burdens

Manually calling patients to alert them of upcoming appointments

High cost and low engagement with mailed patient satisfaction surveys

Too much time spent writing and mailing greeting cards to patients

Using unwieldy spreadsheets to maintain patient lists
HealthViewX Patient Engagement Platform
HealthViewX offers an integrated Patient Engagement and Communication solution to seamlessly align and personalize the experience of the patient throughout the care journey with multiple automation touchpoints.
With this HIPAA compliant two-way interactive communication platform, providers can effortlessly engage patients on a variety of activities including appointment reminders, alert notifications, feedback surveys, practice newsletters, educational content, perioperative instructions, information about special events like screenings, vaccination drives, etc.
Building a hyper engaged Patient-Provider relationship just got easier!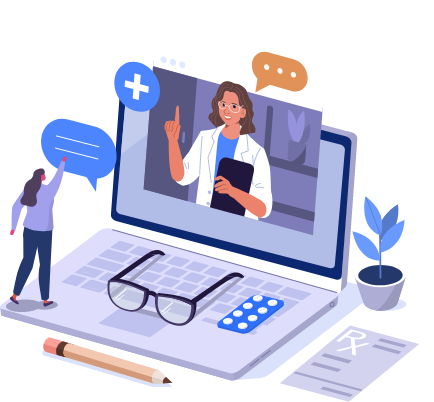 Highlights of HealthViewX Patient Engagement
2-way Messaging Communicate in the patient's preferred mode and language with secured two-way SMS, automated calls (IVR), instant messaging or email.

Automated Workflows​ Personalized workflows that require patient input with custom communication based on care needs, and instantly document responses in your EHR.

View-Download-Transmit Allow patients to view, download, and transmit lab results, discharge summaries, or other protected health information (PHI) to providers securely.

Patient e-Forms Enable patients to electronically complete new patient forms, digital consent, health history, immunization records, medication lists, surveys, etc.

Notifications & Reminders Engage patients with automated, personalized, and actionable communications at scale to significantly reduce operational inefficiency and costs.

Threshold Breach Alerts Track and alert threshold breaches of key parameters including vitals, activities, sleep, medication compliance, pain, and much more.

Patient Self-scheduling Configure appointment requests to go directly to specific office staff or book real-time appointments directly into the EHR/PM.

Engagement Dashboard Built-in widget to see at-a-glance if patients have read SMS/alerts, submitted in-app questionnaires, and accepted/cancelled appointments.

Advanced Analytics Improvise and deliver the messaging that drives financial and clinical results using the concrete data analytics on patient communication.

EMR/HMS Integration Deep integration with the EHR enables closed-loop workflows, staff continuing to work within the EHR, and zero friction adoption.

Video Consult Consult over video call. Save time and conveniently see a doctor online with almost zero waiting time.

Managing Self-care Empower members to be in charge of their own health records, promote self-care and goals tracking.

SMS Library Enable instant responses to patient queries using AI-driven conversational SMS library.

Patient Response Charts Deliver messages to patients and populate intuitive charts with response data.
"According to the Patient Engagement Perspectives Study conducted by CDW, more than 70% of physicians say Patient Engagement is a top priority at their organization."
Key Benefits
HealthViewX Patient Engagement is a transparent and optimal communication solution that drives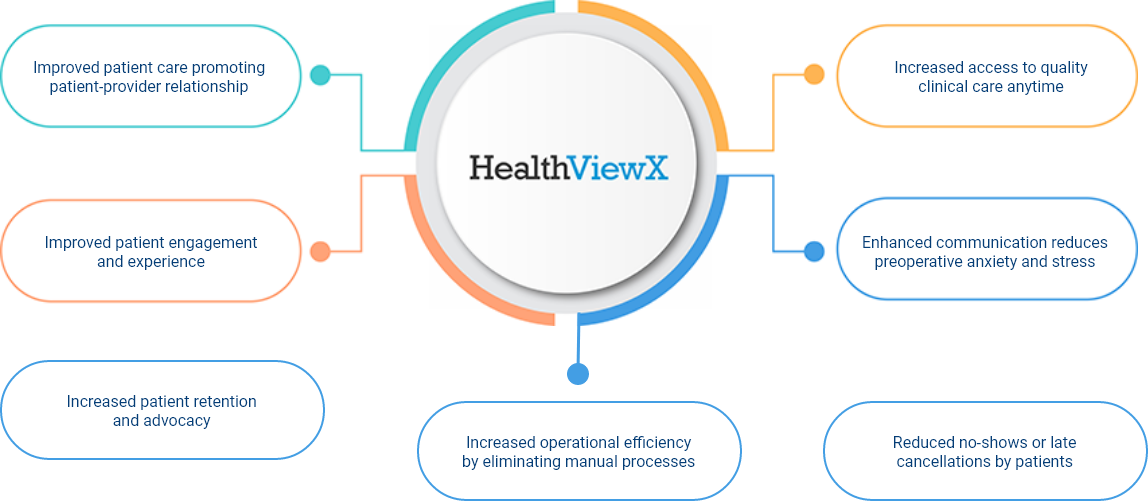 Outcomes of HealthViewX Patient Engagement
Life-time Relationship
Delivering a seamless care experience can help you convert first-time visitors into lifetime customers, build your patient base and support patient loyalty. Nurture the patient-doctor relationship in-between appointments and disseminate practice news, birthday greetings or alert notifications.
Education & Advocacy
Physicians can pre-select content for specific patients or conditions, and the system makes it available to your patients over their preferred channel. Let your patients know you're thinking of them to improve patient satisfaction as well as drive more visits to your practice.
It costs 6-7 times more to acquire a new patient than retain an existing one

Existing patients are 50% more likely to try new services than new patients

About 65% to 75% of the appointments come from existing patients
Learn how HealthViewX can improve patient engagement, communication and operational efficiencies at your organization by scheduling a no-obligation demo.
Schedule A Demo