Virtual Clinic App
Launch your virtual clinic and deliver online digital Evaluation and Management (E/M) services seamlessly.
Boost care accessibility with our fully integrated Virtual Clinic app and transform your clinic, attract more patients, and thrive in the digital care era.
HealthViewX Virtual Clinic, the new standard for e-Visits!
Schedule A Demo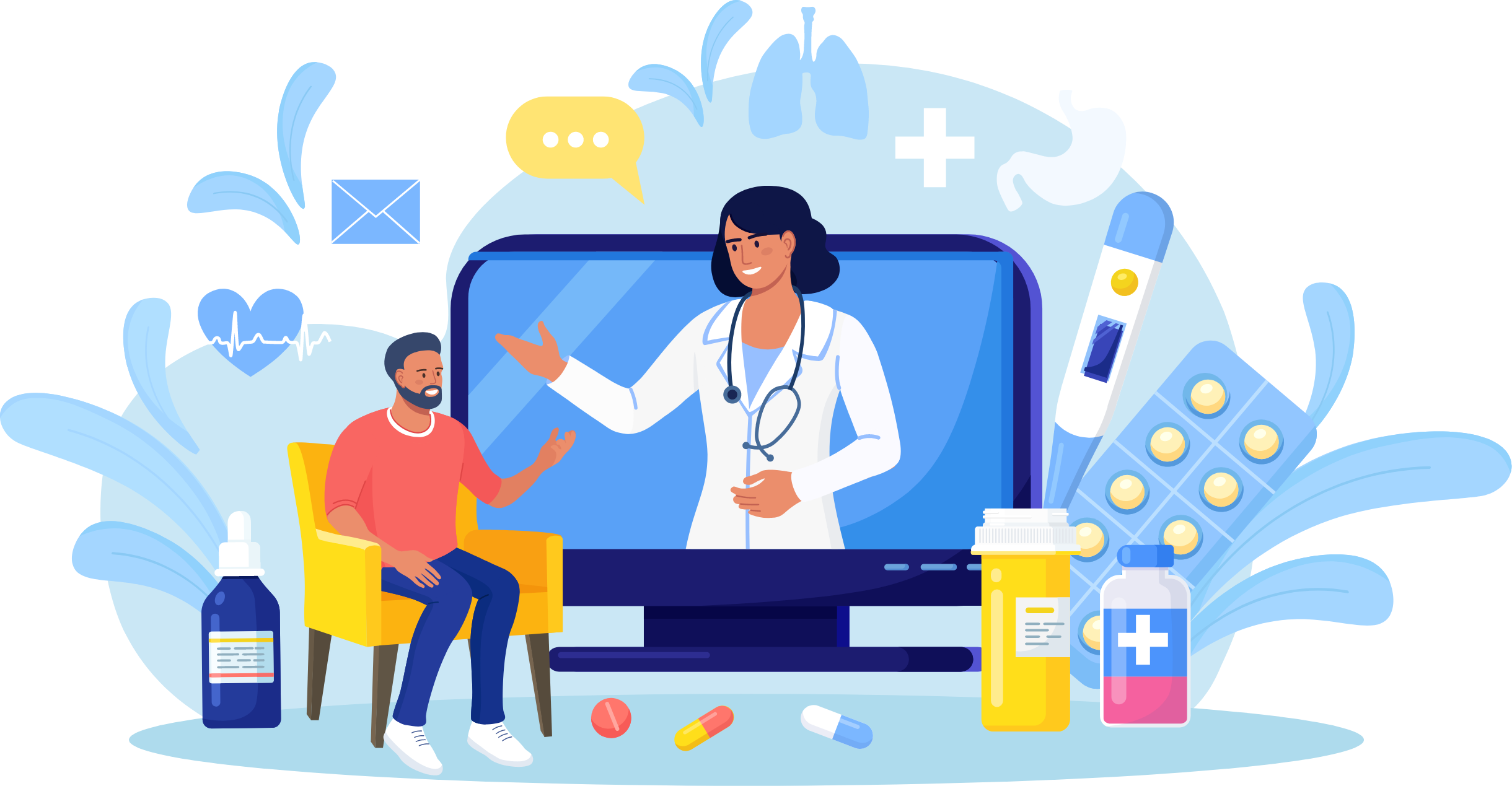 HealthViewX Virtual Clinic
HealthViewX's fully integrated Virtual Clinic application empowers providers to focus on patient care without the stress of end-to-end management of online visits. Seamlessly deliver a simple, smooth Virtual Care experience!
Our HIPAA compliant solution provides an immersive and patient-centric view of your clinical workflows with configurable software modules for patient intake, scheduling, documentation, imaging, and analytics all in a single interface.
Delivering e-visits effectively and successfully billing for Medicare's online digital Evaluation and Management (E/M) services have never been easier.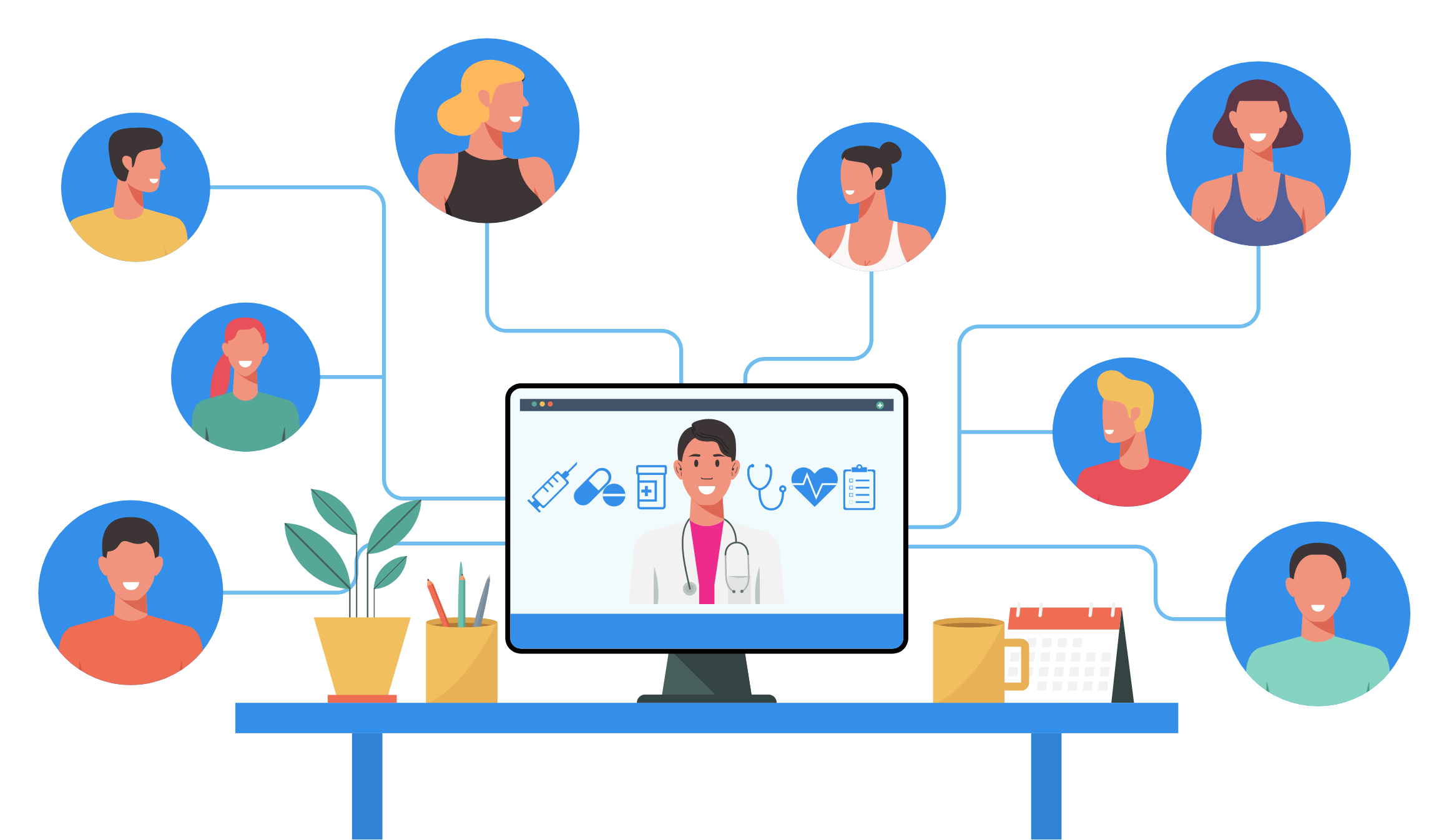 Key Features
On-demand Integrated e-Visits

Provide access to care anytime without needing access to your EHR or PMS. Your documentation in the platform flows into your EHR/PMS.

In-visit Features

Securely share your screen, exchange documents, chat, capture photos, record notes, generate summary reports, all within the virtual visit.

Smart Alerts & Notifications

Receive timely alerts for appointment confirmations, automated reminders, waiting room statuses, incomplete teleconsents, session timeouts, etc.

Streamlined User Experience

Virtual visits integrate with EHR, PMS, mobile, and patient portals to create a seamless user experience. No dual documentation is required.

Multi-resolution Video Calls

Providers can engage with their patients face-to-face on any web-enabled device, anywhere in LD/SD/HD Video formats based on their subscription.
How HealthViewX Virtual Clinic Works
HealthViewX empowers practices with a HIPAA compliant Virtual Clinic web portal for patients to access and choose a specialty/provider of their preference. Patients access the portal to check for provider's availability and book an appointment for a virtual consultation. Patients will receive a secure link over an email/SMS after successfully booking the appointment.
On the day of the appointment, patients can participate in virtual visits on any device through a secure link in their email/SMS. No username, password, or downloading of an app is necessary. The link will allow them to wait in a queue (virtual waiting room) and join the session when the provider lets them in.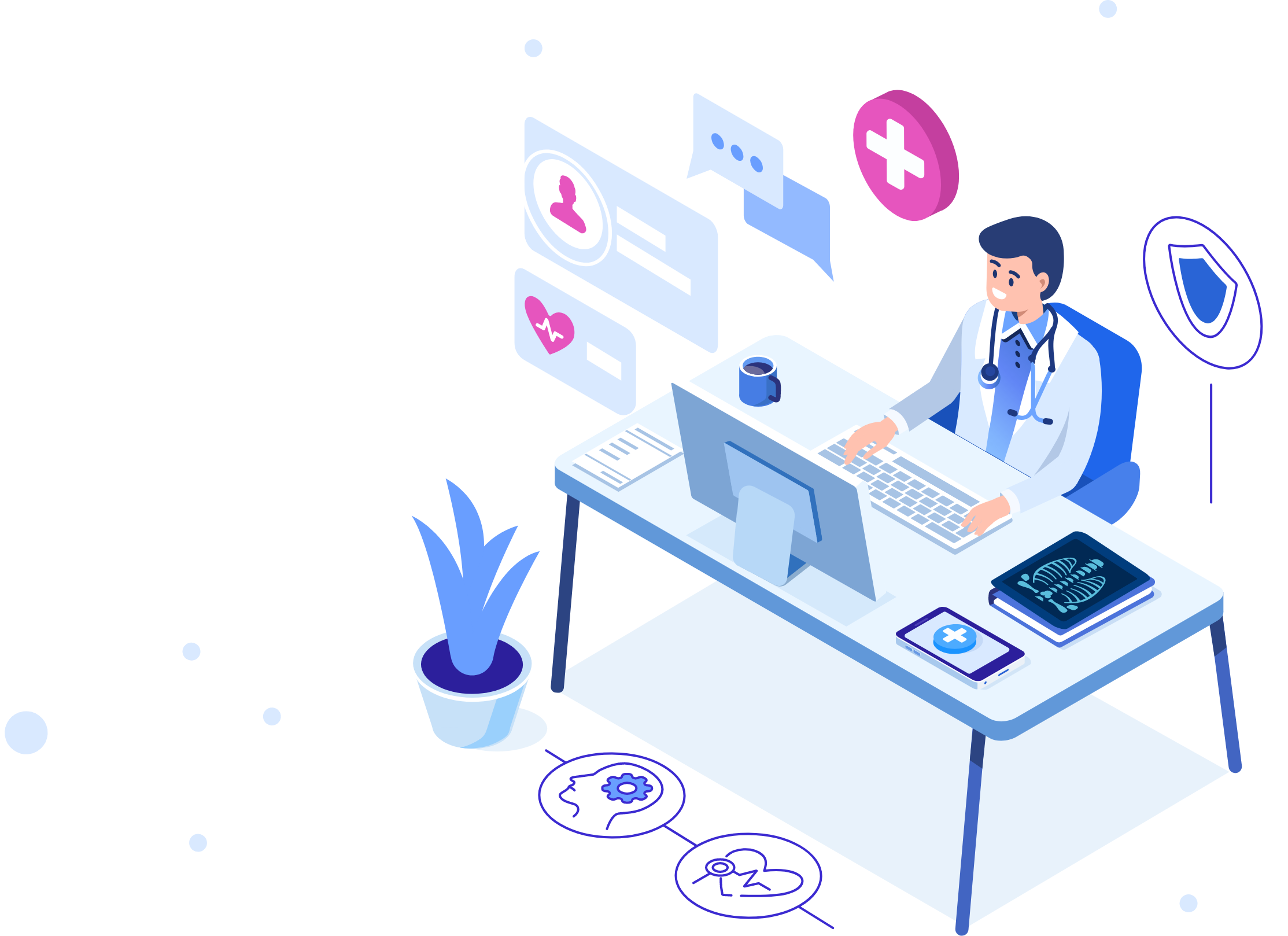 Highlights of HealthViewX Virtual Clinic
Queue Management
Virtual Waiting Rooms
Secure Messaging
LD/SD/HD Videos
Record Notes & Audio
Visit Summary Report
Appointment Scheduler
Patient Teleconsent
Payment Gateway
e-Prescribing
Document Exchange
Photo Capture
Auto Time Tracker
CPT Code Generator
FAQs
What are the prerequisites for virtual visits or e-visits?

A camera and microphone enabled smartphone, tablet, or computer with reliable web access.

What type of visits are recommended for virtual visits?

Practices can conduct screenings, follow-up visits, routine checkups, patient education, behavioral health services, review of lab results, x-rays, and ultrasounds, as well as prescription refills and counseling sessions.
Benefits
Meet with patients through cloud-based access on any device, anywhere
See patients without the stress of a crowded waiting room
Make it easier for patients with limited mobility to access care
Make chronic care management more accessible and convenient for patients
Reduce no-shows and appointment cancellations
Medicare Billing Guidelines for e-Visits or Online Digital E/M Services
Medicare Part B pays for e-Visits or patient-initiated online evaluation and management (E/M) conducted via a patient portal. For these e-Visits, patients must generate the initial inquiry and communications can occur over a 7-day period. Individual services need to be initiated by the patient; however, practitioners may educate beneficiaries on the availability of the service prior to patient initiation.
These services can only be reported when the billing practice has an established relationship with the patient. The Medicare coinsurance and deductible would generally apply to these services. This is not limited to rural settings and there are no geographic or location restrictions for these visits.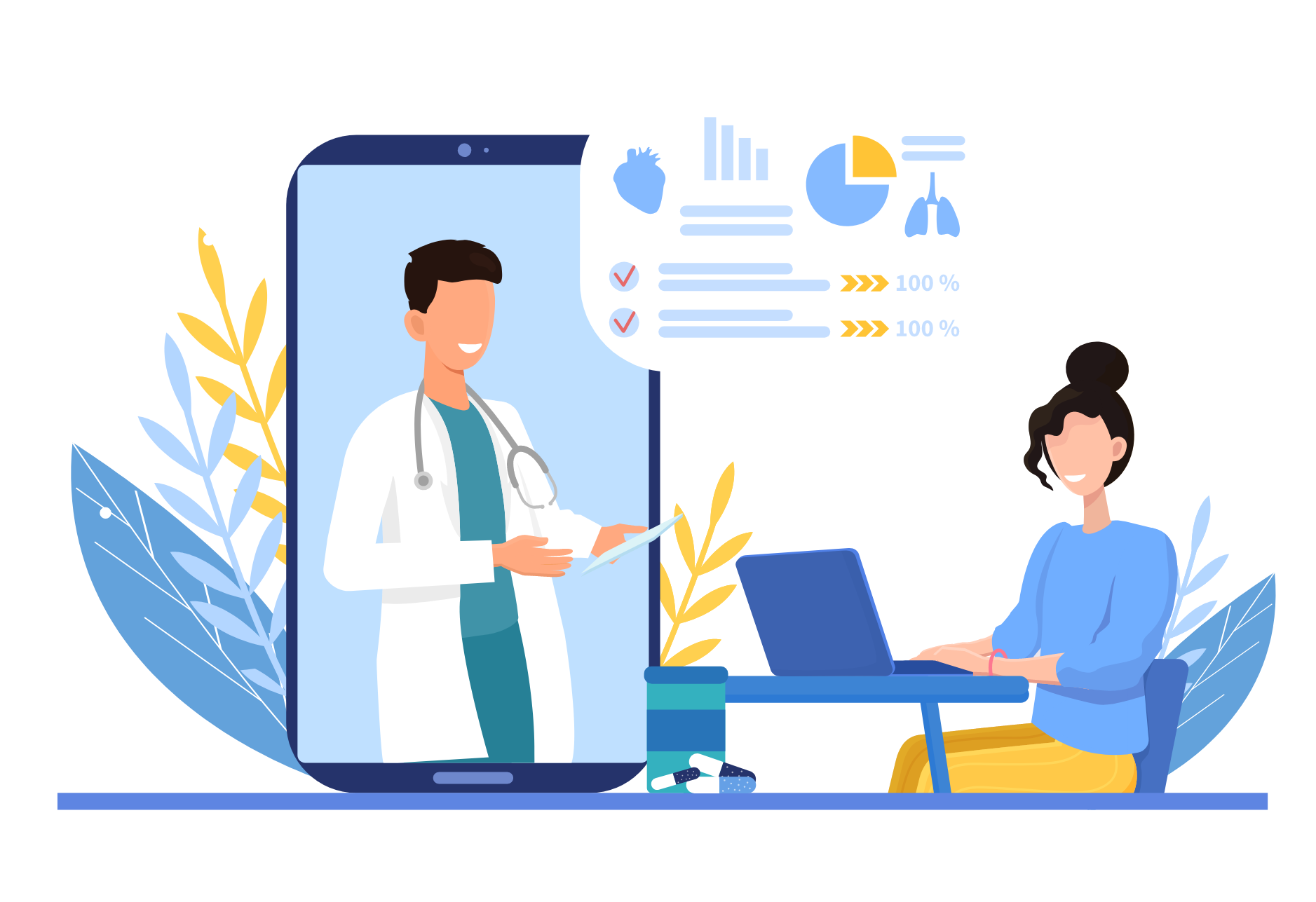 Medicare Reimbursement Rates for Online Digital E/M Services
Practitioners can independently bill Medicare for evaluation and management (E/M) visits (for instance, physicians and nurse practitioners). Qualified non-physician healthcare professionals who may not independently bill for evaluation and management visits (for example – physical therapists, occupational therapists, speech-language pathologists, clinical psychologists) can also provide these e-visits and bill for the services provided.
Total Time Spent over a 7-day period
Practitioners
QHCPs
CPT Code
Reimbursement Rates
CPT Code
Reimbursement Rates
5–10 minutes
99421
$15
G2061 / 98970
$12
11–20 minutes
99422
$30
G2062 / 98971
$21
21 or more minutes
99423
$49
G2063 / 98972
$33
Significance of Virtual Clinics
Virtual clinics provide safe and convenient access to care through e-visits. Over the past year, the COVID-19 pandemic has forced some big changes in the world of medicine, making virtual visits much more widely available than ever before.
As ambulatory practices evolve into a post-COVID future, the need for care continuity and expanded service through virtual visits will remain vital. Built for seamless healthcare e-visits, our HIPAA compliant solution integrates with your EHR and works also on mobile devices seamlessly.
Learn how our fully integrated Virtual Clinic application can elevate your practice by scheduling a no-obligation demo.
Schedule A Demo