HealthViewX, Your Referral Management Solution Partner
HealthViewX Referral Management is a HIPAA Compliant SaaS solution that enables seamless inbound/outbound patient referral management for healthcare organizations with a customizable workflow. The solution empowers healthcare organizations to manage their end-to-end referral cycle with extensive visibility thus enabling the providers to streamline the process, reduce medical errors/delays and get analytical insights for informed decision-making.
Its various features such as seamless bi-directional integration with EMRs, multi-channel referral consolidation, insurance form automation, automated referral assignment, automated patient/provider appointment notification & reminders, etc. all contribute to improved operational efficiency and reduced overhead cost.
Who we serve
Large Hospitals/Health Systems/ACO's
For Outbound Referrals
HealthViewX automates the outbound referral process – right from automating form fills for insurance pre-auth to automatically updating the patient information back into the EMR/EHR and closing referral loop.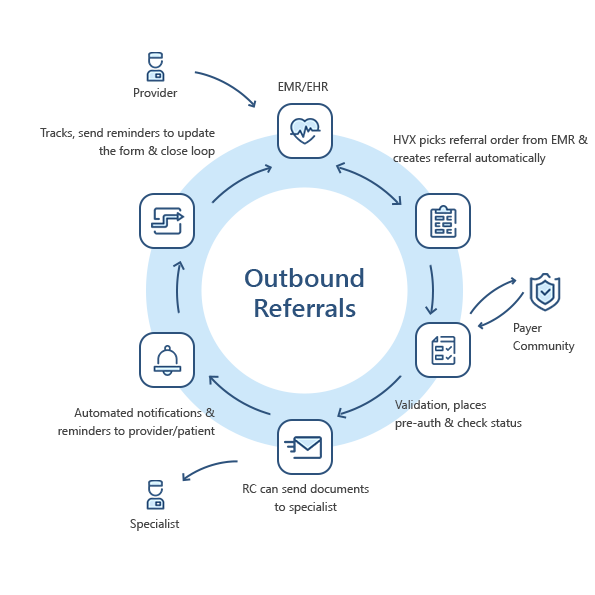 For Inbound Referrals
HealthViewX automates the inbound referral process – HVX consolidates referrals from multiple channels into a single queue. Its customizable website referral form ensures complete and secure referral information delivery. Sends automated patient reminders and notification, and automatically updates the information back to the referring provider.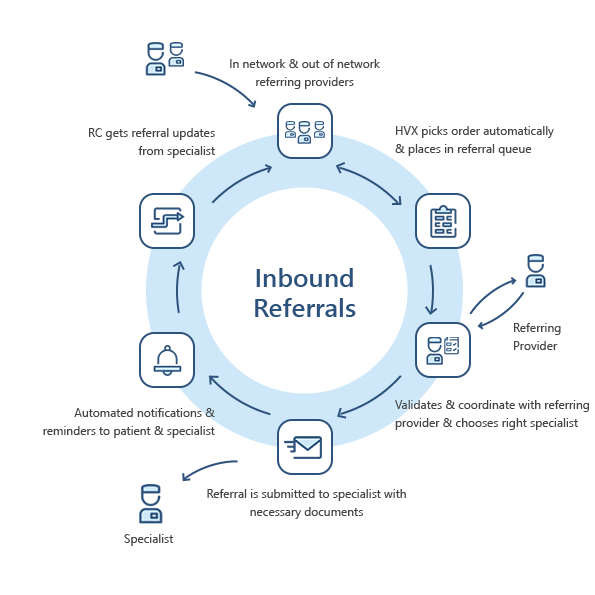 Why HealthViewX
HealthViewX can be customized to accommodate workflow requirements unique to each care organization instead of the one-size-fits-all approach and can enhance operational efficiency. HealthViewX referral workflow orchestration ensures better connectivity and patient health outcomes.
HealthViewX is the ONLY standalone Patient Referral Management solution that has achieved Meaningful Use Stage 3 for "Transition of care". HealthViewX customers enjoy MU benefits as referrals transferred using the platform can be counted for MU credits, and AMC report can be generated directly from the application seamlessly.
Key benefits
our customers have experienced after implementing HealthViewX Referral Management Solution
A dental specialty clinic experienced a 25% increase in the efficiency of referral coordinators
A large hospital reduced its manpower operational expenses by 15%
An ACO experience a 20% reduction in their patient referral leakage
A leading imaging center increased its referral loop closure rates by 20%
A large university experienced a 45% reduction in referral processing time
An FQHC experienced a 20% increase in the number of referral loop closures.
Testimonials
We chose HealthViewX based on their unique capability to easily automate insurance pre-authorization forms, referral loop closures, and the end-to-end referral management cycle.
Dr. Kelly Motadel, CMO - Vista Community Clinic
We are impressed with the improved referral relationships between our primary care and specialists. The easy of communication improves care and patient experience.
David Printy | Medical Professional Services inc
Schedule a free demo now!