Did you know? There are about 8000+ large enterprise hospitals in U.S. Recently, Becker's Hospital Review released the list of top 50 large health systems. How is a hospital classified as a large enterprise hospital?
Hospitals which have typically 500 or more beds are categorized as Large Enterprise Hospitals. They are capable of serving the broader needs of the community. Some larger hospitals offer a combination of acute and long-term care services while also providing research opportunities in some cases and accommodating a variety of specializations.
Considering the huge number of patients in such hospitals, the referral numbers are also high. So such large health systems face challenges such as operational inefficiency, patient dissatisfaction, care discoordination and missed referral updates in their referral process. Let us go through the patient referral workflow in detail to understand their challenges better.
Patient Referral Workflow in Large Enterprise Hospitals
In order to understand how a patient referral works in a large enterprise hospital, let us consider a scenario,
XYZ hospital is a large enterprise hospital with 10,000 plus PCPs and specialists. It is a busy hospital that sends and receives 1000 plus referrals in a day. In the workflow explained below, Mark is the patient who visits his PCP, Dr.James.
Mark visits the hospital

– Mark hurt his leg and was bleeding. Even after three days, the wound did not heal. He visited his PCP, Dr. James. After examining Mark, Dr.James wants him to consult a diabetologist.

Dr.James does the insurance pre-authorization

– The PCP does the insurance prior authorization manually. He places a request with the insurance company and waits for their response. The process takes time and forces Mark to wait. After about four hours, Dr.James gets the consent of the insurance company for the diagnosis.

Dr.James has difficulty finding the right specialist

– The hospital had recently acquired a specialty clinic. Dr.James is not aware of the specialists recently added to the network. So he misses the famous diabetologist within the network and looks for someone outside the network. After considering many factors like the patient's comfort, specialist's availability, distance from the patient's residence, specialist's experience etc, he finally chooses a receiving provider.

Dr.James sends the referral

– Dr.James finally sends the referral to Dr.Hales after trying to reach the specialist office via phone. The line seems to be engaged. He looks for many other ways which will be easy to send referrals but to his disappointment, Dr.Hales accepts only referrals through phone or website.

Dr.Hales schedules appointments

– After receiving the referral, Dr.Hales schedules an appointment with the patient. Mark was not notified clearly about the appointment. So he fails to show up. It results in revenue loss for the specialist and patient dissatisfaction with the PCP. Mark who is still suffering from pain and waiting for the specialist to examine him. After two missed appointments, Mark finally visits the specialist.

Referral progress updates and loop closure

– Throughout the referral process, Dr.James is in the dark. Dr.Hales is busy and fails to give referral updates to Dr.James. He is anxious to know if Mark was taken care of. Without referral updates, Dr.James cannot close the referral loop.
Challenges of Patient Referral Workflow in Large Enterprise Hospitals
Handling multiple EMR/EHRs

– Large Enterprise Hospitals and Health Systems that are formed as part of mergers and/or acquisitions tend to handle multiple EMRs. EMR interoperability is their greatest challenge.

Finding the right specialist

– A Large Enterprise Hospital has huge number of specialists. PCPs are not aware of specialists who were newly added or who came within their network as a result of mergers or acquisitions. So many times PCPs tend to refer their patients out of their network in spite of having the right provider within the network.

Patient no-show rates

– When patients miss/forget or do not show up for appointments, it results in revenue loss for the hospital. Patients miss appointments due to various reasons like no reminders, waiting time, better specialist within the locality, reputation of the receiving provider, etc.

Referral leakage

– Did you know? Referral leakage for any health system can average anywhere from 55-65%! Patient leakage or referral leakage occurs more in an out-of-network referral than in an in-network referral. There could be many factors such as reputation of a provider, lack of knowledge or insight and patient's choice that lead to patient leakage.

Patient dissatisfaction

– Large enterprise hospitals should keep in track of the number of patients moving out of their network. An alarming 25 to 50% of referring physicians do not know whether their patients see the specialist! Patients become dissatisfied with the treatment when specialists or PCPs do not follow-up with them regularly.

Referral Analytics

–  As a large number of referrals flow in and out of the network, it is difficult to track the exact number. It is also tedious to track the number of referrals in various status and to close referral loops.
HealthViewX Patient Referral Management Features for Large Enterprise Hospitals
Multi-channel referral consolidation

– The HealthViewX solution can capture fax, phone, email, online form referrals or any other referrals in a single interface. It makes it easy to monitor and manage all channels of referrals in a single queue.

Intelligent Provider Match

– The

HealthViewX

"Smart Search"

feature makes it easy for the referring provider in finding the right provider. It has smart filters and search options that help in narrowing down the specialist based on the requirements. This saves a lot of time for the referring provider.

Insurance pre-authorization process

–

HealthViewX automates the insurance pre-authorization process. The provider need not coordinate with the insurance company for prior authorization. The HealthViewX solution will do it for them. This reduces the manual effort of the referral coordinators.

Patient coordination framework

– After finding the receiving provider, the referral coordinator refers the patient. When the receiving provider receives the referral, the provider will get notified of the referral. Even the patient will be notified of the referral. The receiving provider can schedule appointments based on the patient's comfort. This will cut down patient no-show rates.

Timeline View to track referrals

–

With the help of a referral status, the referring provider can get to know what stage the referral is. A timeline view shows a history of stages through which the referral has progressed. The chances of a referring provider missing out on referral updates are very less.

Referral closure and feedback

– The referring provider can close the referral when it gets completed. The receiving provider and the patient can give a feedback on the referral process to the referring provider. Thus the referring provider can make it easy for the other the next time.

Referral Analytics

– Helps in tracking the number of referrals and gives complete information about the referrals processed, missed, scheduled etc with the help of a Referral Data-centric Dashboard.
HealthViewX Patient Referral Management solution smooths the referral process and solves most of the inbound and outbound referral challenges for Large Enterprise Hospitals. Do you want to know more about HealthViewX HIPAA compliant Patient Referral Management solution? Schedule a demo with us.
Reference
https://www.beckershospitalreview.com/lists/50-largest-hospitals-in-america.html
https://www.mass.gov/files/documents/2016/08/uy/2011-hcctd-full.pdf
https://www.beckershospitalreview.com/lists/52-great-health-systems-to-know-2018.html
Summary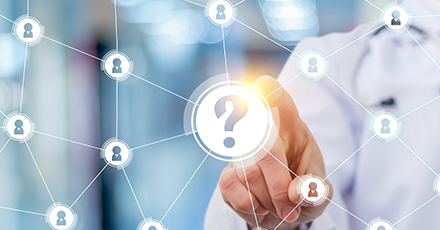 Article Name
How Can Large Enterprise Hospitals Overcome The Challenges In Patient Referral Workflow?
Description
HealthViewX Patient Referral Management Software has the following features that helps Large Enterprise Hospitals in overcoming challenges, Multi-channel referral consolidation, Intelligent Provider Match, Insurance pre-authorization process, Patient Coordination Framework, Timeline View to track referrals, Referral closure and feedback and Referral Analytics.
Author
Publisher Name
Publisher Logo