Value-Based Care is an increasingly popular healthcare model in which providers receive reimbursement that reflects the outcome of the patient. This concept emphasizes the importance of improved patient health and accordingly benefits providers who are able to deliver to their patients. The traditional "Fee-For-Service" model which involves flat rate payments irrespective of patient outcomes or care quality has grown out of favor.
The move away from a purely profit-focused model and towards a patient-centric model highlights the trend of developments in the US healthcare industry. This seismic shift towards Value-Based Care is not possible without some of the modern health tech innovations which are at the forefront of the movement.
The move towards Value-Based Care
For quite some time, the healthcare industry was known as a purely profit-based industry. In order to shift the care focus towards the patient outcome, the Centers for Medicare & Medicaid Services (CMS) has laid the groundwork for various Federal Acts that incentivize providers who adopt a value-based model. The most notable of these was the 2010 Affordable Care Act (ACA). This aligns with the "Triple Aim" framework promoted by the CMS: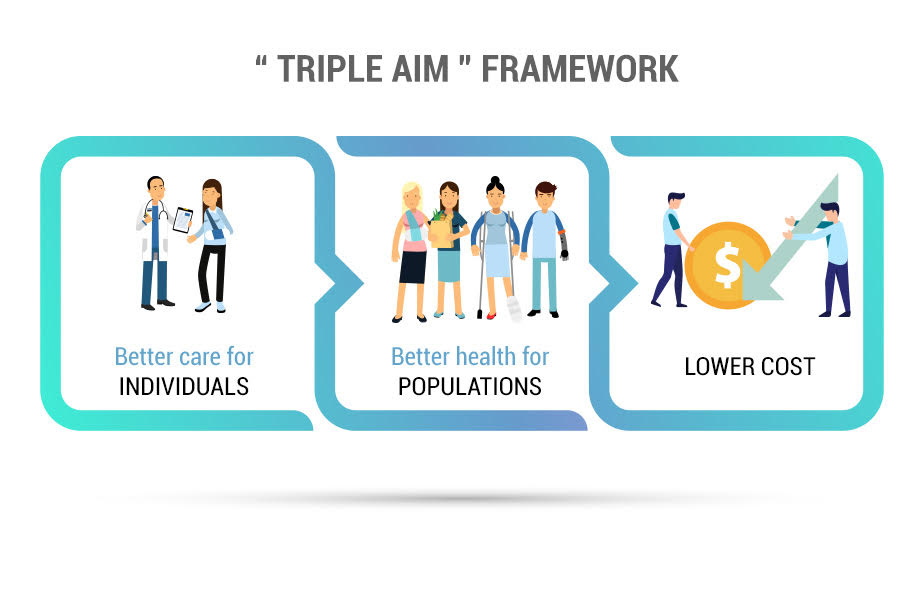 The increase in concrete support from the Federal Government influenced many providers in shifting to a Value-Based model.
Why Value-Based Care?
The attractiveness of the Value-Based structure can be attributed to its numerous benefits for both patients and providers. This model is highly popular amongst patients as it highlights provider accountability for the outcome of their care. Patients can achieve peace of mind knowing that the improvement of their health is the primary goal.
For providers, this model offers a larger patient outreach while handing out incentives for better performance. The increased use of technology has helped practices use reliable data to make informed business decisions. While this structure is inherently appealing for all parties involved, the advancement of technology has fueled its widespread acceptance.
Achieving Value-Based Care through Enhanced Care Journey Mapping
Enhanced Care Journey Mapping involves the tracking of patient activities throughout their care process. It is used to conceptualize the process and eliminate any tedious or redundant tasks. Journey Mapping is a prime example of Value-Based care as it seeks to improve patient outcomes. Providers can identify areas where patients face inconvenience and take measures to address them. By analyzing the overall care journey, providers can optimize the patient experience.
What technology solutions are involved?
The large-scale move to a Value-Based Care model has been made possible by the following solutions:
Telehealth:

Telehealth involves the exchange of virtual health services (such as video conferencing) using an electronic platform. The emergence of telehealth software has given patients high accessibility to quality care. Providers can open a new revenue stream while staying up-to-date with their patients, even when a physical meeting is not possible.

Remote Patient Monitoring:

Remote Patient Monitoring (RPM) is a healthcare practice that uses technology to monitor patients in a virtual manner. RPM allows patients to monitor their health daily and encourages them to be more involved with their care. The adoption of RPM services can be directly attributed to a decrease in readmission rates. RPM gives providers valuable insights into the patient's current condition.

Chronic Care Management:

Chronic Care Management (CCM) involves the facilitation of patients suffering from two or more chronic conditions. Virtual health software services have greatly improved the quality of CCM. Providers save time and money by using these services to connect with their chronic care patients. Patients with chronic conditions can eliminate unnecessary clinic visits and receive timely health feedback from the convenience of their homes.

Referral Management:

Providers have increasingly adopted software systems that streamline their patient referrals. Patients can expect increased efficiency while not having to worry about documentation and processing issues. This has greatly decreased referral leakage which can cost individual practices millions of dollars each year.
Challenges in shifting to a Value-Based Model
While providers across the nation have welcomed the value-based model, some significant obstacles remain before it becomes the industry standard.
Technological Disparities: Many practices do not have the necessary tech infrastructure to operate a value-based model. Many practices lack programs like RPM and EHR Integration, which are integral to the operability of the model.

Government Support: While the CMS has supported many value-based initiatives, it remains to be seen how the Federal Government will include all patients and providers under the triple aim

Financial Risk: This shift, like any large financial investment, comes with a moderate level of risk. Many smaller practices cannot afford to gamble on a move that may not pan out.
Nonetheless, the Value-Based model has shown great promise in bringing change to provider-patient relationships. The response to these issues will determine the success of the model in the long run.
Talk to us to understand more about Value-Based Care and we will guide you to achieve our common goal "Quality Care for All" seamlessly.